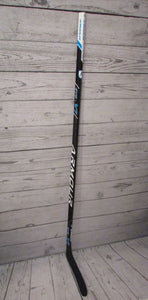 No manufacture defect on these sticks. The only problem was a graphic printing error. What a great way to get an amazing stick at a killer price!
Senior stick that can be used at the High School / Junior level all the way to recreational league players. This is one tough stick that is balanced, great weight and steady control.
Flex: 77, 87, 102 (multiple other flexes available on special order).
Curve: P3/E3 Sakic, P19 Nugent-Hopkins, P88 Kane, P92 Ovechkin
Length: 65"
Carbon: 18K